While pollution is increasing, the world is finding eco-friendly options to traditional products. Casio has done the same. They have innovated projector technology and created Eco-friendly projectors with high quality output projections. Projectors are mercury free (unlike traditional projectors) and they reduce the carbon imprint.
Casio Eco-friendly Projectors
Casio kept the 4 key qualities in mind while designing these hybrid light source projectors :
Ecology : Being mercury free projectors, these projectors are eco-friendly.
Economy : These projectors are mercury lamp free, so they don't need any replacement lamps, which saves the cost of extra lamps. It saves the labor cost, operating cost and has a 20,000 hour long-life light source with low brightness degradation. Hence, these are good for long term usage.
Usability : With startup and shut down time as low as 5 seconds, projectors can be turned off and on quickly.
Visibility : Bright output, color purity resulting in powerful image projections.
These key qualities make the projectors next generation of projectors. There are four series of Casio eco-friendly projectors with varying price ranges.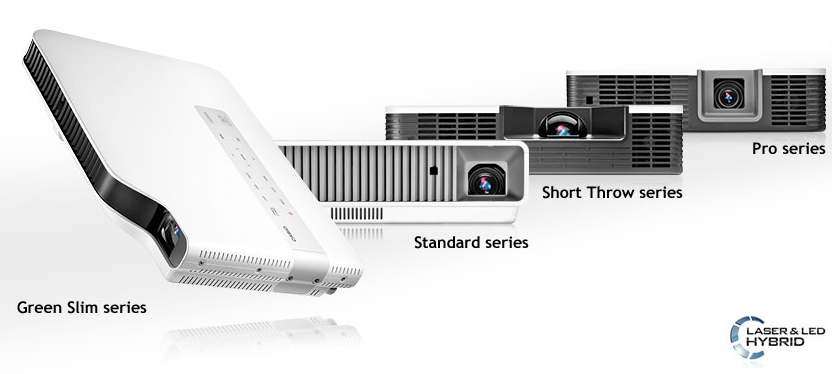 Green Slim series : 5 different Portable models with price range about Rs.89,995 to Rs.1,19,995.
Standard series : 8 different models with changes done to please the users. Price range about Rs.77,995 to Rs.1,07,995.
Short Throw series : 2 models ideal for teaching purposes, specially for short range projections. Price range is about Rs.1,39,995 to 1,49,995.
Pro series : 6 models specially for large screen projections. Price range about Rs. 1,39,995 to Rs.1,67,995.
Dual Projection System (XJ-SK600)
Along with the eco-friendly projectors in different series, Casio also introduced a new system known as Dual Projection System. Combined projections of two projectors can give brightness upto 6,000 lumens which results in excellent and more clear output projections. Geometric correction box makes it easy to set up the system and configure it. It can also help in projecting on non-flat surfaces by guiding through the correct angles. Dual projection system is priced at Rs.3,29,995 and Geometric correction box is seperately available for Rs.69,995.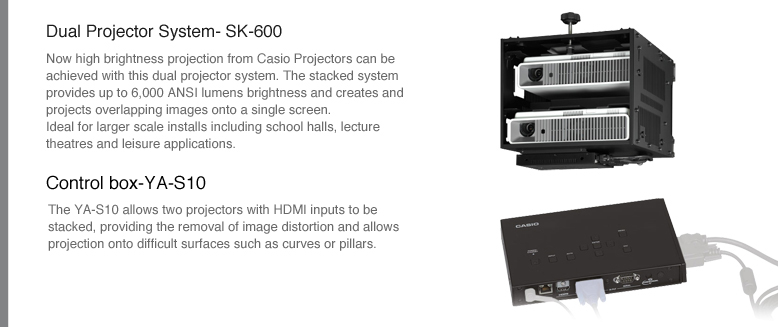 Along with projectors, Casio also launched few other products in education category.
Interactive White Board (YA-W72M)
Casio India launched Interactive White Board which is available in only one size of 72-inches and is compatible with Casio's all types of projectors. The white board is portable and it can be carried anywhere easily. Interactive white board doesn't need any cables. It is a magnetic board, on which a special bluetooth enabled scanning digital pen with camera is used to annotate on screen.
Even a normal paper can be used as a medium to write on the board if it is printed with the image of a special format. This way, students can write on the board even while sitting on their bench. 4 pens can write on the screen at a time. Special software by Casio provides a toolbar, which has different tools such as select, erase, draw. Interactive White Board is priced at Rs.69,995 and it is perfect for classrooms or business presentations.
Casio Ex-word (EW-B2000C)
Casio India showed of Ex-word, which is a small electronic dictionary which has 11 published dictionaries along with 1 Encyclopedia. E-dictionary can be used to check pronunciation of a word, check spelling of a word, check grammatical info about a word and many more uses. It can be used as a French to English translator too.
It has USB connectivity and a micro-SD card slot. It supports micro-SD cards of about 4GB memory and it has 50MB internal memory. Rechargable batteries can be used to power the device upto 130 hours. Apart from a dictionary, this can be used as a image viewer too. This dictionary can also be projected on a screen using a projector. Price range for this device is around Rs.14,000.
Casio Graphic Scientific Calculator (fx-CG20)
Casio Graphic scientific calculator is a calculator with a color display with 65k+ colors. The calculator can be used in scientific calculations as well as financial calculations.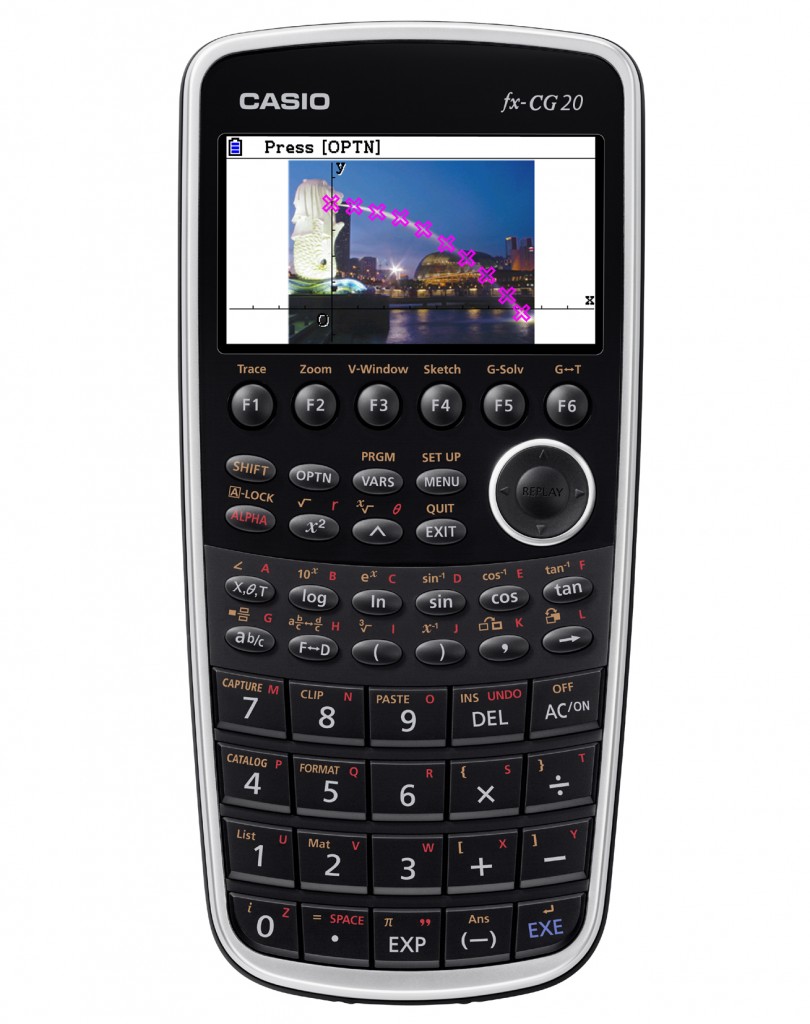 Picture plot function enables users to create function graphs over color images. More than 50 images are preloaded on the device. Using equations, graphs can be plotted of the respective equations. Output can be viewed on a screen using projector. Price range is about Rs.10,000. These various products launched by Casio are surely going to help Casio go ahead with more speed in Education category. [toggle title="Official press release" status="progression_clpsed or open"]
Casio launches New Range of Eco-friendly Mercury Free Projectors at Infocomm 2013
CASIO India Company Private Limited, a 100% subsidiary of the JPY341.7 Billion consumer electronics giant Casio Computer Co. Japan, unveiled a range of mercury free projectors at Infocom 2013. Casio, a leading manufacturer of projection technology has developed a variety of solutions geared for the corporates & education sector. Since the introduction of Casio's LampFreeTM projection technology in 2010, the company has spoken with Institutions to better understand their challenges and identify areas where they still needed assistance. Understanding the need for advanced technology on a limited budget, new age projectors are developed. Speaking at the launch at Infocomm stated Mr. Kulbhushan Seth, Vice President, Casio India Company, "We take great pride in unveiling this new family of projectors with innovative solution such as interactive white board and stacking projection system." He added, "Our new line will provide our customers with all the advantages of Casio's unique LASER & LED Hybrid Light Source plus superior brightness, an energy-saving interactive experience. New solutions designed for the business, education, Pro AV, digital signage and home entertainment markets. Further assuring best in class quality Casio has extended warranty on its Projector Light Source Unit, i.e. 5 years or 10,000 hours, w.e.f. 1st Oct'13 onwards." He added, "What's more, these projectors are mercury free and reduce the carbon imprint." Casio India launched the Portable Interactive White Board (IWB) and Dual Projection System (Stacking solutions). The Interactive White Board is available in one size ( 72"), and compatible with Casio's entire portfolio of projectors. The new Interactive White Board can be easily installed without cables or additional hardware– it's basically a magnetic board. With the special pen, educators and students can annotate on screen or paper, as it can be used as a stylus, mouse or actual pen. The Interactive White Board can also be used as a conventional white board using dry-erase markers. Casio's Interactive White Board enables educators to interact with students in a multitude of ways. The Interactive Whiteboard & Pointing function enables users to maintain control of the PC by positioning the pointer at the projection screen as well as what is written on the screen, when utilizing the Presentation Draw software, a perfect tool to incorporate into classroom lessons and business presentations. The Interactive White Board is priced at Rs.69,995. Dual Projection System (Stacking Solutions)—XJ-SK600 As the trend towards installing digital signage solutions for information systems and advertising space continues, the launch of  Casio's Dual Projection System XJ-SK600, CASIO is making a notable advance in this field. The perfect interplay between several components in an all-inclusive solution produces projections with an extraordinary image quality. CASIO's Dual Projection System XJ-SK600 consists of two projectors, a Geometric Correction Box YA-S10 and a sturdy, black stacking box, which acts as a casing. Both projectors project the same image. The result is a strong light output of up to 6,000 ANSI lumens from a laser and LED hybrid light source. The Geometric Correction Box software synchronizes the two overlapping images, thus producing a completely distortion-free image. This technology enables the user to project onto an extensive variety of surfaces including otherwise unsuitable surfaces such as columns and arched and round walls. The image remains bright and clear, even on projection surfaces with a screen size of up to 792 cm (300). The price of XJ-SK600 is Rs.3, 29,995 and Geometric Correction toolbox is available separately at a price of Rs.69,995 . Casio projectors include Slim Series, Standard Series, Pro Series and Short Throw Series models.   Slim Series: The Slim series has 5 models with ANSI lumens upto 3000. This series has an innovative mobile styling, with a slim 43mm case and is weighs 2.3kg weight with 2 x powers zoom. This model can be easily carried wherever needed; be it conference rooms or classrooms or a business trips or training sessions. This range is priced from Rs.89,995 to 1,19,995 Standard Series: The Standard series has 8 models with ANSI lumen upto 3,000 and comes with a host of technological advancements to serve to its wide range of users. This range is priced from Rs.77,995 to 1,07,995, Pro Models: The Pro series has 6 models with ANSI Lumen upto 4,000. This enables large screen projection in large conference rooms as well as clear projection of images in brightly lit rooms. This series is priced from Rs.1,39,995 to 1,67,995, Short Throw Series: The Short Throw series consists of 2 models with ANSI Lumen upto 3,000 and is equipped with a set of applications, making it ideal for classroom teaching. This series has a short-throw lens for projection of 60-inch screen from at a distance of 80 cm. The shorter projection distance provided by this close-up projection reduces shadows on the screen and eliminates the possible distraction of projector light shining in viewers' eyes, optimizing user and viewer comfort. This range is priced from Rs.1,39,995 to 1,49,995. The entire series of Casio's new projectors have unmatched features such as Laser and LED Technology with upto 20, 000 hours performance with no lamp replacement as well as  24 X 7 continuous operations. Additionally, these eco- friendly mercury free technology projectors use low power consumption (less than 1 watt and reduced user's carbon footprint. Besides, minimizing operating costs, these projectors have an auto brightness adjust which optimizes brightness to room lighting. The other features of this range include DLP® 3D projection function, MobiShow® compatible Wireless LAN, Wireless connection with smart phones and other mobile devices and USB 2.0 host function to showcase data stored in USB memory. The range has a Wireless LAN function, and the Wireless connection is compatible with Windows & Macintosh PC's, Built –in speaker (1W, 5W, 10W) along with Interactive Pointing function, Automatic Eco: Intelligent Brightness Control Automatic vertical keystone correction, Display Resolution and Wide-angle zoom lens. These projectors are also equipped with an Anti-theft lock. Warranty and Availability: All main Projector Units come with a 3 years from the date of purchase. The Light Source Units have a 5 years or 10,000 hours warranty, whichever comes first from the date purchase with effect from 1st October 2013. The new range of projectors is available at select stores across India. Casio India Company Private Limited: Casio India Co. Pvt. Ltd. (CIC), a 100% subsidiary of Casio Computer Co., Ltd, Japan, is responsible for marketing CASIO products in India manufactured by its parent company. CIC has been operating in India since 1996 and has established the distribution channel as well as the brand for most of its products. Casio Computer Co., Ltd, Japan, the parent company of CIC is engaged into manufacturing and marketing of various consumer products throughout the world. Casio India's range of products include sales & marketing of Handheld Calculators, Desktop Calculators, Scientific Calculators, Green Projectors ,Printing Calculators, Label Printers, Wrist Watches, Digital Clocks, Digital Cameras, ECR (Electronic Cash register) and EMI (Electronic Musical Instrument). The company has also setup service centers across the country to provide after-sales-service at the doorstep of its customers.  Today, Casio is known for its reliable product quality and exemplary innovations and is one of world's most recognized brands due to its vast product range. [/toggle]