EaseUS has been working hard to improve their products every day of each month and year and as a result, they are growing so rapidly. Maybe the improvements aren't quantum leaps but we are highly satisfied with the features renovated or introduced on every release of a software. One of their products is Todo Backup. Comparing the range of features this software provide with the other popular ones, would say that the Todo Backup is one best backup freeware out there. Install it, set it up and proceed to backup system and you are done. Let's have a look at the core features of this software.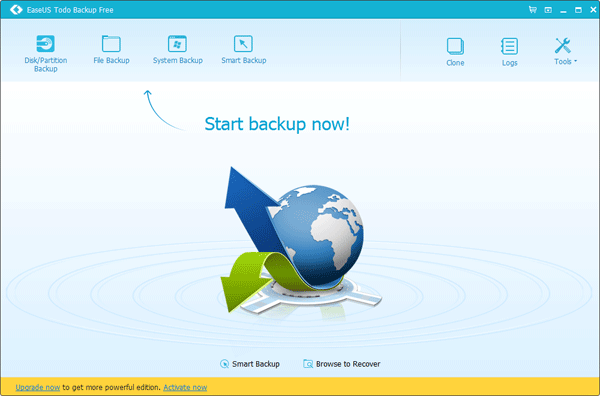 Backup Types
When you think about backing up computer's data, you can just rely on Todo Backup. The backup system includes various types of backup like he full system backup or some partial backup like incremental or differential backup. The event based backups would backup your system when a system level change has taken place like the installation of new software or some major changes in the operating system, or just turning on and off your computer. The incremental and differential backups are performed when certain files are added to or removed from a specific location. The other backup terms work as their names suggest.
Saves Disk Space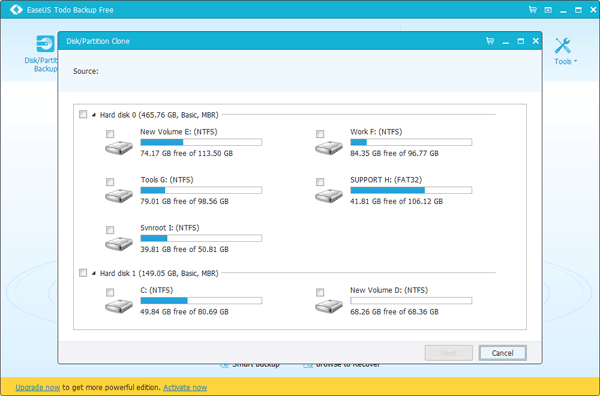 The EaseUS Todo Backup freeware won't put much dent your hard drive's storage space. The great compression allows the software to create much smaller file sizes to be stored on your hard drive. The splitting tool would divide the files into smaller pieces to maximize the hard drive space. Not only backup of the predefined files and folders but Todo backup can exactly mirror some hard drive to another. You can just mirror-copy your entire hard drive to another hard drive and restore the whole amount of data in case anything goes wrong.
Restorations Features
The software aces the backing up job and the restoration as well. With its excellent restoration engine, every bit of your file would be put back into place like it normally was. You can either recover the files by parts or restore the entire hard drive image stored in some other physical media than your present hard drive. We had faced one major problem though; the backed up files are not universal accessible. They only open with Todo Backup; and if you don't know this software's name when you attempt a restore you might get in trouble.
Paid Features
The features mentioned above are all available on the free version of the Todo Backup Software. However, if you think the software is worth investing for and you want some bonus features then you can avail the Home Version for $29. For this amount you purchase features like system snapshot, boot drive, pre-boot environment, Outlook back and restore and Windows PE Boot Disk ISO etc. features.
Schedule your Backups
EaseUSTodo provides great support for scheduling your backup and restoration jobs. You can set a specific interval to perform the backups. These are usually the incremental and differential backups so the hard drive wouldn't get flooded with replicated backup files. The backup scheduling feature can be accessed from another remote computer as well.
Pros & Cons
Like every other backup software in the market, the Todo Backup software has some pros and cons as well.
Pros
The backup tools are excellent.
We liked the scheduling feature.
Cons
There's no built-in antivirus
Verdict
If we are asked to rate the software, it's a solid 9 out of 10. There are plenty of features to like about EaseUSTodo Backup. We loved the system backup features provided on this backup freeware as well as the remote scheduled backup.