The latest technologies feature at the top of many people's Christmas wish lists, and this article will explore what the hottest products are likely to be in 2013.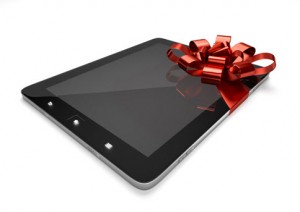 Tablets
There's a good chance that the brand-new Apple iPad Air and iPad Mini with Retina display will be most popular in the tablet world. However, some consumers might look for a less expensive alternative by opting for the preceding models – the iPad 2 and iPad Mini.
There are also more affordable alternatives in the new Tesco Hudl and the Amazon Kindle Fire HD. The Samsung Galaxy Tab 3 Kids could be a popular gift choice for little ones. Accessories such as cases and stands are likely to accompany these gifts.
Cameras
Cameras are always a popular Christmas gifts, with many new gadgets being used to capture memories on December 25th. Viking stocks a great range of digital compact cameras that come with accessory bundles, so you can gift your loved one everything they need for fantastic photos.
Those shopping for budding professionals at the higher end of the market are likely to favour products like the GoPro Hero 3+, an extremely robust piece of kit – ideal for outdoors enthusiasts. The latest SLRs from big names like Canon and Nikon are also sure to prove popular.
Smartphones
Apple could again dominate in the smartphone category, with the new iPhone 5S and more affordable iPhone 5C sure to be topping their fair share of wish lists. Again, the previous model, the iPhone 5, will also sell well as a lower-cost option.
The Google Nexus 5 could fly the flag for Android, with its relatively modest price tag and excellent specifications setting it apart. However, T3 Phone of the Year winner the HTC One and the Samsung Galaxy S4 should also sell well. The Nokia Lumia 1020 could lead the pack for Windows Phone 8.
MP3 players
Christmas is certainly a profitable time for Apple, as it could also come out on top in terms of MP3 sales, too. The colourful iPod Touch, iPod Nano and iPod Shuffle devices – which come with free engraving from the Apple online store – are likely to fly off the shelves.
Alternatives include the likes of the Cowon X9, which boasts 110 hours of battery life, although Apple will surely dominate in this arena, even more so than in others. Either way, gift-buyers might accompany music players with a pair of Beats by Dr Dre headphones or a Bose sound system.
Consoles
The release dates of the Xbox One and PS4 are just around the corner, and plenty of gift-givers are bound to have these consoles pre-ordered ahead of the Christmas rush. However, sales of the Nintendo 3DS and Wii U are likely to remains strong, too.
Games including Grand Theft Auto 5, Pokemon X and Y, Forza Motorsport 5, Fifa 2014, Call of Duty Ghosts, Super Mario 3D World and Killzone Shadow Fall are likely to be top titles.