To make Mumbai roads safer, Mumbai Traffic Police department and TopGear India announced a three week long campaign on Tuesday, June 30, 2015 at a press conference in Mumbai. With Suneil Shetty as brand ambassador for the initiative and Ms. Mandira Bedi, the first week of the campaign will focus on decongesting the streets of Mumbai by encouraging carpooling and increased use of public transport as well as creating awareness about basic traffic rules, women drivers' safety, and noise pollution by honking.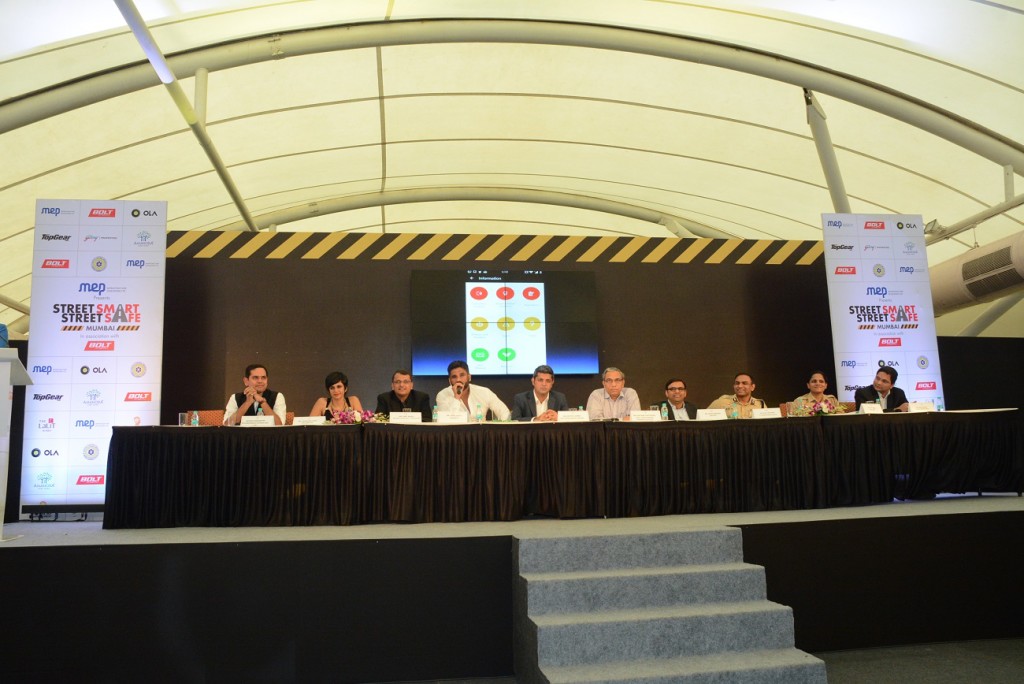 The Press conference was honoured by presence of Mr. Deepak Lamba, CEO – Worldwide Media, Mr. Jayant Maheshkar, Managing Director – MEP Infra, Mr. Milind Bharambe, Joint Commissioner Traffic, Ms. Sheila Salil – DCP (Crime Against Women's Cell), Mr Balachandran, Deputy Commissioner – Transport, Mr Amit Sagar – National Sales Head – Passenger Vehicle Business Unit, Tata Motors Limited, Arvind Singhatiya, Vice President of Corporate Affairs – OLA and Mr Girish Karkera, Editor TopGear India Magazine.
Launch of the Mumbai Traffic App was another purpose of this press conference. Supported by Google Maps for ease of use, the app provides users and drivers warns users and drivers about heavily congested areas and suggests alternate routes. The app also features a one click Emergency Alert to three pre-decided contacts with your last known location, keeping in mind the importance of making the roads safer for women drivers. In addition, the app will contain traffic guidelines and rules, along with information about fines for varying violations.
Mr Girish Karkera, Editor TopGear India Magazine said,
Roads are a great sign of the financial health of the nation. Progress also brings its fair share of not so good things. Traffic is one of them. We cannot escape it but what we can do is use our roads more efficiently and safely. But it is a holistic approach
that we need right now. Our endeavour with Street Smart Street Safe is to highlight what we all can do together,
As a part of Street Smart-Street Safe, Mumbai initiative, 'Decongest Mumbai' campaign will run from June 30 – July 4, followed by a 'Women's Safety Drive' on July 8, 2015. 'Traffic Angels', an activity where young school children and volunteers will form a human chain to guide pedestrians crossing the road, will be held on July 14. 'Horn Not OK' is another campaign which will work towards monitoring noise levels across the city by installing decibel meters at key junctions and monitor the noise levels. Various other activities and contests will be held across the city for the duration of the initiative. The campaign will wrap up on July 21, 2015 with an event that demonstrates the importance of obeying traffic laws.