Win Rs. 1 Crore with UC Browser's World Cup Bonanza
-Also stand a chance to win an array of fantastic prizes-
To celebrate the excitement of the upcoming 2014 FIFA World Cup™, UCWeb is launching its mega Rs. 1 Crore World Cup Guessing Contest on UC Browser. Termed the 'World Cup Bonanza', it gives participants the chance to prove their football prowess by predicting the winners of each match. The more correct guesses made, the closer the participant is to winning the grand prize. Upon correctly guessing every winner of the 2014 FIFA World Cup™ group stage (total of 48 matches), the participant will walk away with a cool Rs. 1 Crore grand prize. Overall top ranked participants will stand a chance to win an array of fantastic prizes including an Apple iPad mini, Apple iPhone 5s, and a Lenovo ThinkPad E431. Launching on June 11th, the World Cup Guessing Contest is open for free to all users of UC Browser.
To provide the most comprehensive FIFA content and services to football fans, UCWeb has released an exclusive "2014 FIFA World Cup™ version" of UC Browser for Android and UC Browser for Windows Phone. This will allow millions of enthusiastic fans across the country to quickly and conveniently access the most complete and up-to-date World Cup information including live scores, text broadcast, stats, photos, videos and group updates. This special "2014 FIFA World Cup™ version" of UC Browser goes live on June 11th.
How to participate in the World Cup Guessing Contest
Participants can pick the winner of a match or a tie starting 48 hours prior to the start of the match. The score at the end of the 90-minute match will be considered as the final score. Scores incurred during overtime and penalty kicks will not be taken into account.
Step 1: Go to the World Cup Guessing Contest site on UC Browser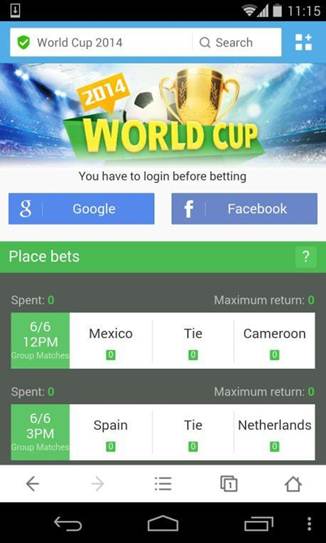 Step 2: Log in with your Facebook or Google account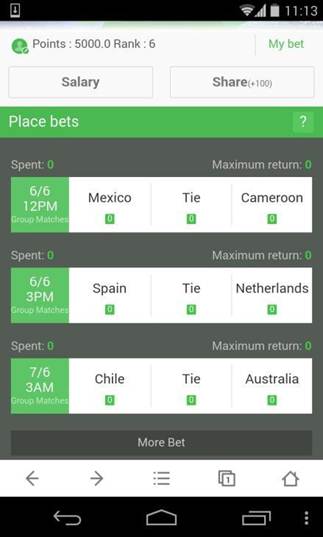 Step 3:  Guess the winner (or a tie) and place your bet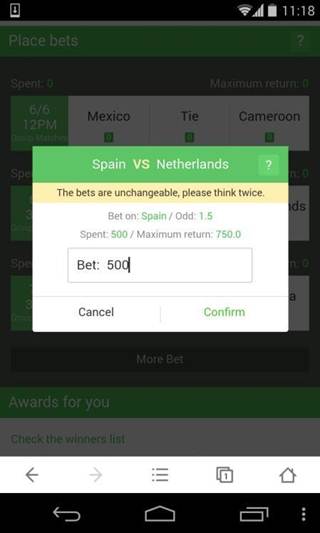 "Football fever is at its peak in India and with the World Cup Bonanza we want to heat things up further for all the football fanatics in the country," said Abhishek Sharma, Director of Marketing Communications at UCWeb India. "Throughout the recent IPL 2014 regular season and playoffs, UCWeb ran the 'IPL Guessing Game' which drew participation from over half a million cricket fans per day across India in a bid to win fantastic prizes. With the World Cup Guessing Contest, UCWeb has raised the bar higher and is offering its users an opportunity to not only get instant updates on live scores and news, but also to win exciting prizes. The stakes are high but the rewards are higher, including a golden chance to win Rs. 1 Crore. This is a very unique initiative from UC Browser and we expect a lot of football enthusiasts in India to participate."
Please see detailed Terms & Conditions for the World Cup Guessing Contest on UC Browser.
UC Browser, the flagship product of UCWeb, has over 500 million global users and is the most popular mobile browser in India with 34% market share. With its latest update, UC Browser is now the ultimate one-stop destination for football fans.
Download UC Browser from UCWeb.com or Google Play.