Being a technology blogger, I usually review mobile devices, laptops; but a car? That's a first for me. Even though this one was out of my niche, I still decided to give it a go as IndiBlogger and Tata Motors had come up with a great plan to give bloggers from all niche an experience they could never forget. And I have no regrets, rather I would have regretted if I hadn't registered for this wonderful event-cum-journey. Let's dive right into my #HexaExperience.
The Prologue
Tata Motors have been in the market for some time and they accept that they have got their share of hatred from customers for not-so-good cars and poor after-sales service. So Tata revamped their public-face by launch of Tata Tiago which got quite a bit of attention from customers in the market. Tata is saying and has promised for better customer service.
After success of Tiago, Tata has come up with their flagship in SUV section, all new Tata Hexa. Hexa is child of efforts by design teams from UK, Italy, India and Korea. They have conceptualized this new SUV under the new design named as IMPACT. IMPACT Design means Immediate IMPACT on first sight, lasting IMPACT over time. I sure agree with this statement. You don't? See for yourself and then think again.
The bold design, the edges, face of the car, those headlights, front grill and the 19″ tires, it is a treat for eyes. Not just the exteriors, but the interiors were as premium as the exteriors and were having soft touch materials & premium and much comfortable seats.
Dashboard itself increases the premium feel of the car with its soft touch materials. Small additions such as the in-built sunblinds to save you from the bright sun-rays makes an impression. The 8 colors Ambient mood lighting is customizable and comes with illumination control. Being a big car, Hexa still stays cool with the AC vents on sides in each row of the car.
Thinking about the security of the car? Don't worry. Hexa got you covered. Hexa has 6 airbags to ensure safety of all  the passengers in car. It also comes with ESP(Electronic Stability program) which helps the car to overcome in any terrain. It also comes with ABS, Hill Hold Control and Hill Descent Control which assists and controls the vehicle on Hill roads.
The Journey
After getting acquainted with Tata Hexa on first day, plan for second day was simple. Get in the car, put on the seat belt and take off! Route of 170KM was already set on the NaviMaps app in ConnectNext infotainment system of Hexa. At the halfway point, we had to exchange the cars, so that we could get experience of both Automatic Shift and Manual shift variants of Hexa. The preset route was a combination of all type of roads, little bit crowded city roads, huge highway, village roads with no road divider and a small off-road track. Their plan was to give us all experience of different types of terrain and they succeeded.
The HexaExperience
The actual driving experience was mind-blowing. We chose automatic shift variant first. It comes with Economic, Sports, auto sensing mode and it is a 6-speed automatic transmission. So the experience was smooth for the whole ride as the car was transitioning smoothly & automatically in gears. In economic mode, the car was not picking up with as much power as it was doing in the sports mode, which was very useful while overtaking other cars or to gain speed quickly.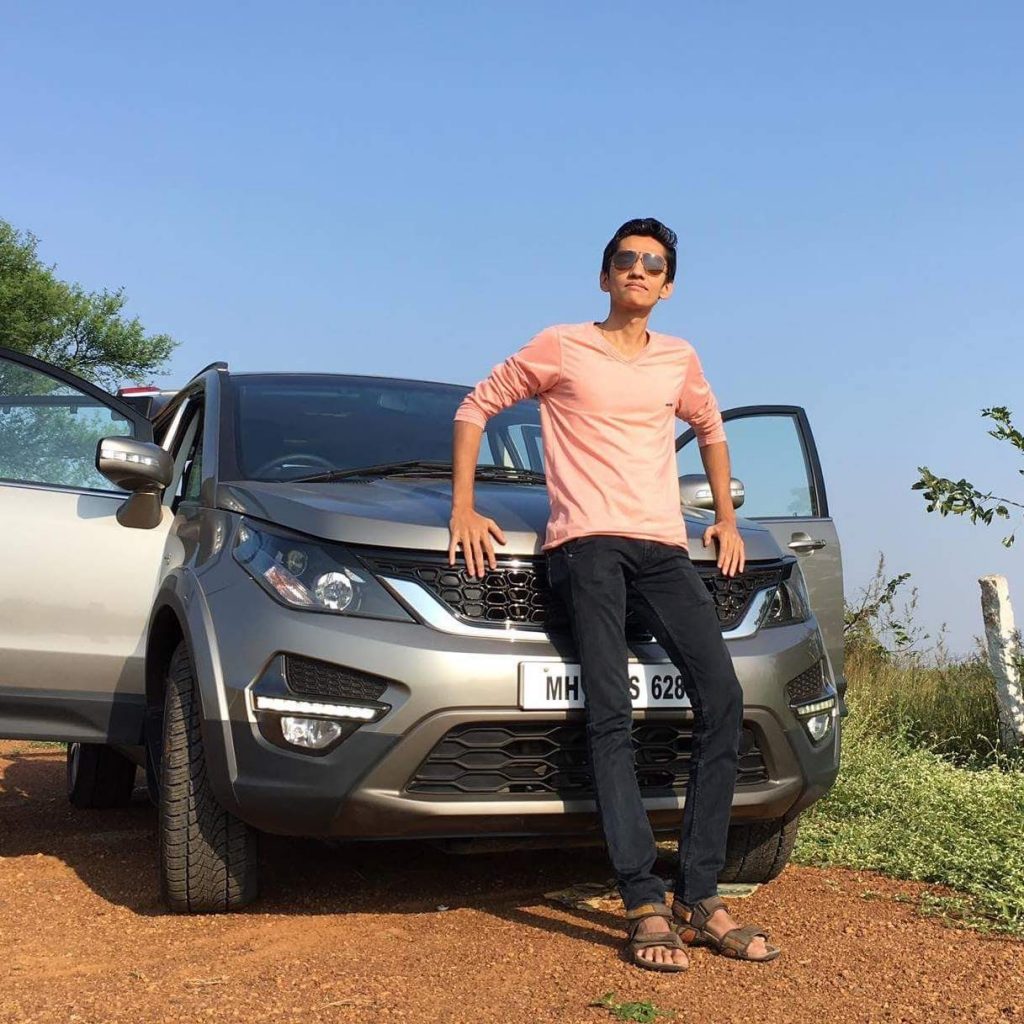 Seats were comfortable and the 8-way adjustable seats were a treat while driving. AC controls were a bit on the lower side on dashboard and hence were little bit difficult to reach while driving. Nothing we can't get used to over the time. Car uses Automatic Climate Control to maintain the temperature in cabin. Cabin has a lot of space and sections for keeping your frequently used accessories and things.
Reverse gear had a parking guidance system which uses the inbuilt camera and ultra-sonic sensors on back. It assisted using the display on dashboard.
We were cruising through potholes like they were plain roads. The 19-inch alloys did their job perfectly. While other cars were avoiding the potholes, we were driving straight over them.
While returning, I drove at speeds about 160KMPH+ and the car didn't even budge. It was as if we were sitting in our homes, on our couch. Car was so smooth that it didn't even feel like we were at even 50s.
The car gave us overall 10.8-11.5km/l mileage while driving, which is pretty good considering the power this car provides.
The Offroading
Car does a great job in offroading as well, like it does on roads. Offroading ride was as smooth as it can be. Just take a look at this video and look at the tires.

Different modes of the Super Drive Modes system were demonstrated while offroading. The Auto mode, Comfort mode, Dynamic mode and Rough road mode are the 4 types of modes included in the Super Drive Modes system.
Conclusion
The car is smooth on higher speeds, comfortable through potholes, sturdy while off-roading. There is no other car I have ever been into which had all these things.
So as you saw, Tata Hexa is Power Packed, Feature Loaded which gave me an Adrenaline Pumping HexaExperience!