Chinese consumer electronics company, Meizu Technology ltd., today announced its plans for the Valentine day week, by commencing a full week of contests for its Meizu fans in India. As part of the Meizu India Valentine's Day celebrations, seven unique contests for Meizu fans have been organized on Facebook. The Indian followers of Meizu can participate in these contests and one lucky user gets to win a 'couple flight tickets to Goa' on the basis his/her engagement with the contests throughout the week.
For each day, Meizu India has arranged uniquely themed contest with exclusive goodie bags for the winners. The unique contests will be announced on each day and will be hosted on the Meizu Facebook page.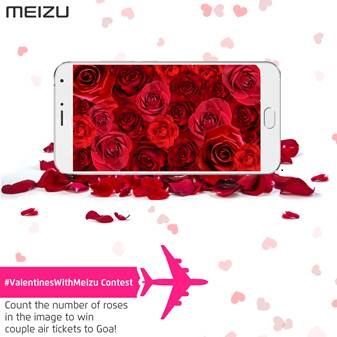 List of days as part of Valentine's Day week:
Monday: Propose Day
Tuesday: Chocolate Day
Wednesday: Teddy Day
Thursday: Promise Day
Friday: Hug Day
Saturday: Kiss Day
Sunday: Valentine Day
Today's contest is themed on 'Propose Day' and participants will have to share a unique idea on how to propose to their partner. Three lucky winners get to win exclusive Meizu goodie bags.
So don't waste time and start participating in these Meizu India arranged unique and exciting Contests for you can earn some really amazing goodies this season of love.
Meizu has been lately wooing its Indian fan base. The company has been organizing several contests in India to indulge its potential and existing customers into various Meizu products. It can be remembered that Meizu had also arranged a similar Giveaway contest around Christmas last year.