Keyboards specialists, EditorsKeys have announced the launch of the world's first backlit editing keyboard in the India. Rajeev Kohli Editor and Director from the Indian media & entertainment industry graced the occasion and unveiled the products along with key dignitaries Morten Hvitved, Co-promoter of EditorsKeys, Abhishek Agarwal  of Vogue Culture Inc. and Jyoti Rai, CEO of i-VATION India.
EditorsKeys keyboards support top editing applications across multiple platforms such as MAC, Windows & iOS with 16 keyboard variants. High-performance applications like Pro Tools, Presonus Studio One, Cubase, Ableton Live Keyboard, Sonar X3 Keyboard, Propeller head Reason Keyboard, Keyboard for Adobe Premiere CC, Keyboard for Avid Media Composer, Keyboard for Sony Vegas Pro, Microsoft Flight Simulator X, Photoshop Dedicated Keyboard etc are also supported.
The range of backlit keyboards come with patent pending technology. It offers over 100 short-cuts which aim to make the editing process faster and easier. Currently, the backlit keyboards are used by over 30,000 editors world wide.
i-VATION is the strategy consultant of Editorskeys in India and played a key role in bringing these products to India and co-created this launch with Vogue Culture Inc. which is the first distributor of EditorsKeys products in India.
Mr. Morten Hvitved, Co-promoter of EditorsKeys said,
"After establishing ourselves in Europe, our growth continues to be fuelled by strong demand for quality and branded products in other markets. With the success of our product in video and audio editing, we are confident to replicate success story in Indian market. We are extremely happy to associate with i-VATION as our consultant who is an expert in business strategy in India. We will continue the momentum and foster international tie ups in Europe which would lead to further capture ground in Indian market. MODIfying with Make in India is our vision forward".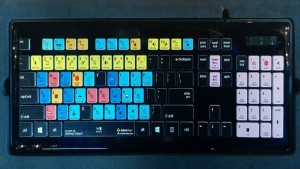 Jyoti Rai, CEO of i-VATION Denmark said,
"The philosophy behind being in business for i-VATION lies in bringing innovative product, improving life experience for Indian consumers. Developed markets across globe offer innovative products and services which are yet to touch Indian ground. We saw huge scope for EditorsKeys products in Indian market as it improves the life of people who contribute significantly to our media and entertainment market. We also found great support for this product line from our Brand endorser Rajeev Kohli who made us realise that we are on right path, further joined by Vogue Culture to make it happen in India. Looking at future market requirement we are confident we can together achieve vision of Editorskeys of "Make in India". We also endeavour to continue this journey by getting newer and innovative products and services to India in near future.
About Editorskeys:
EditorsKeys was set up in 2005 with an objective to make the editing and creative process easier and faster than ever before. It specializes in keyboards that have command shortcut guides for video or audio editing software printed on the keys. EditorsKeys mainly focuses on providing solution for video and audio industry. Recently the company has also launched StudioSeries brand that focuses on creating range of home recording equipment, including  USB microphones, vocal booths etc. Editorskeys is rated as the No.1 Manufacturing business on TrustPilot.com in addition to being nominated for 6 business awards.
About i-VATION:
 i-VATION is Europe based research driven enterprise that aims to directly apply research to the business environment in which it operates. It applies research to a problem and provides solutions to a company. The company aims to engage with clients to discover opportunities, invent new business models, create novel organizational design and formulate and implement invent growth driven market creation strategies.