Singapore-based personal digital entertainment products maker, Creative Technology Ltd, has announced the launch the Creative Woof 3, the micro-size Bluetooth speaker. The Woof 3 can be paired with your Smartphone or tablet in order to listen to your favourite music with greater intensity.
Creative Woof 3 is priced at Rs. 3,999 and will be exclusively available on Snapdeal from 21st December 2015 onwards.
The shape of the Woof 3 resembles an inverted bell and is quite portable in dimensions. As quoted by company sources, the speaker produces clear audio that is directed upwards and well distributed. Creative Woof 3 has been designed to deliver audio that punches above its weight for speakers in its class.
Encased within the durable premium metal alloy housing is a 45mm driver (12% larger than its predecessors in the Woof series), and an additional oversized passive bass radiator for an enhanced audio performance.
The Creative Woof 3 can also be used as a speakerphone as it contains an inbuilt microphone.
The Woof 3 can be charged using a USB cable and supports a playback time of up to 6 hours on a single full charge.
There is more to the speaker than just being a Bluetooth supportable system. You can insert a micro sd card to play songs over the speaker. The Built in Lossless digital audio player (DAP)  also allows the playback of songs through micro sd card.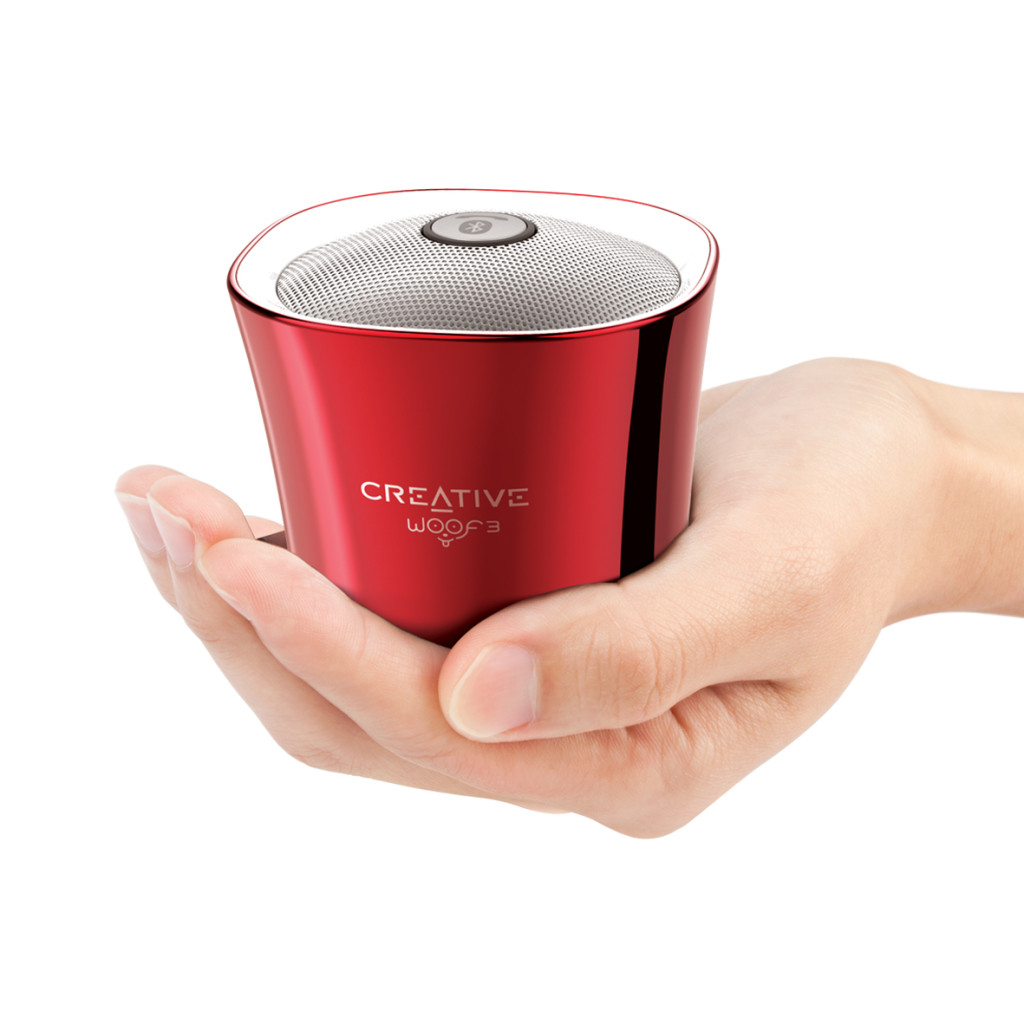 Following are the ways in which you can play your favourite songs on Creative Woof 3:
Bluetooth wireless audio  
Connects wirelessly to Bluetooth-enabled smartphones and tablets.
Built-in MP3 Player
Supports MicroSD card playback of songs in MP3/WMA formats.
Built-in lossless digital audio player (DAP) 
Also supports MicroSD card playback of songs in lossless high-quality WAV/FLAC/APE formats.
USB audio
Enjoy pure digital audio from your PC. Also charges your speaker at the same time.
Integrated 3.5mm AUX-In
The speaker comes with an integrated 3.5mm AUX-in for connections to all other audio devices.
The Creative Woof 3 Bluetooth speaker comes at a very handy price of Rs. 3999. Considering the features of the speaker, its connectivity options, dimensions, this latest launch by Creative seems to be a good deal.
To purchase the Creative Woof 3, visit Snapdeal.