New True Wireless Stereo(TWS) Earbuds are coming to market every few weeks and they are becoming the next trend in wireless Bluetooth earphones market. Even though they are Truly wireless, there's a major drawback in most of them – Battery life. These earbuds usually have smaller 60mAh batteries each and can't last more than 3-4 hours of playback. JAYS has overcome that drawback by launching JAYS m-Seven which supposedly provides 9.5 hours of playback on a single charge.
JAYS m-Seven is their first true wireless earbuds. The m-Seven True Wireless is JAYS' latest product release and the second product in the motion (m) series. It claims that you can enjoy music truly wireless for 9.5 hours on a single charge. You can also charge the buds in the case that comes with it for another three times for a total of 38 hours playtime.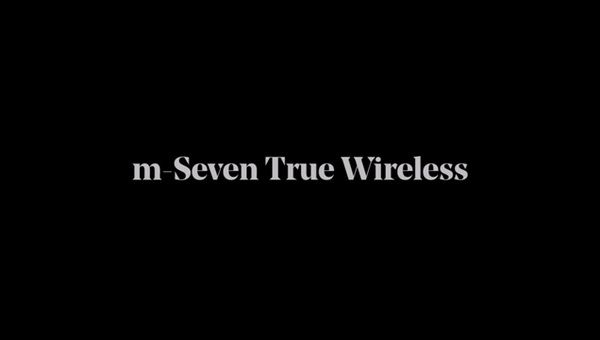 For the very first time: 38-hour battery life (9.5h + 27.5h)
Built to JAYS' motion series' exacting standards with an IPx5 rating
m-Seven true wireless earbuds is now available for sale in India at a price of ₹ 8,999
"When we first discussed what our product should do better than other true wireless earbuds, we choose to focus on design and playtime capacity. We became obsessed with this idea of being able to cross the Atlantic on one charge which we are now able to deliver upon. Our product will last 9.5 hours on one charge."

– Henrik Andersson – CEO, JAYS Group.
As a part of JAYS m-series, the new True Wireless has been given features that makes it the perfect companion when in motion. Next to being sweatproof, the touch and voice control makes it easy to operate while moving.

FREEDOM TO MOTION
Engineered for superior connectivity, a dynamic driver provides the JAYS m-Seven with immersive, detailed audio. It is equipped with powerful Bluetooth® 5 connection to provide superior audio. Shaped with user experience in mind, the subtle earpieces maintain a low-profile in the ear. Easy-to-use in-built touch controls on the side of the m-Seven's earpieces provide freedom from devices and a more immersive listening experience.
BEST-IN-CLASS BATTERY LIFE
The earpieces boast a 9.5 hour battery life, with another three charges of 9.5 hours each in the case. A straightforward light display makes battery level instantly apparent. The unique design can be opened with one hand, ergonomically designed to create an effortless user experience.
CONTROL YOUR WORLD
Universal integration with digital assistants means the m-Seven becomes an extension of the "smart" world. This creates a vast range of possibilities and allows customers to perform multiple tasks on-the-go as well as controlling their music, calls and digital assistant functions.
The JAYS m-Seven True Wireless comes with a one-year warranty and is available online and in-store for Rs. 8,999.
JAYS is marketed in India through Headphone Zone, India's largest Online Retailer for Premium Headphones & Earphones. Founded in 2012 by Raghav Somani, Headphone Zone offers the world's finest Headphone & Earphone brands in India through it's webstore (www.headphonezone.in), online market places such as Amazon and Flipkart, and premium offline retail stores such as Croma and Apple Premium Resellers.
ACCESSORIES
JAYS – m-Seven True Wireless Earbuds
Charging Case
USB Cable (Type C)
Ear Tips (3 Pairs – S, M, L)
User Manual

TECHNICAL INFORMATION
| | |
| --- | --- |
| Weight | 5.9g each (housings only) |
| Frequency range | 20Hz – 20,000Hz |
| Driver | 6mm dynamic |
| Bluetooth® version | 5.0 |
| Range | 15-20m (unobstructed) |
| Battery | Lithium polymer rechargeable |
| Battery life | 5 hours + 20 hours |
| Charging | USB C charging |
| Button controls | Universal |
Can it live up to its 9.5 hours battery claim or not, we will soon find out in our full review of JAYS m-Seven. Stay tuned.