Automation is revolutionizing the way we are living these days. Automated ticket vending machines, food vending machines, automated toll plazas have become important these days as they save man-power and time. This automation can be seen in the IT world as well. Live chats which have pre-fed replies to questions or queries asked to them. Now it's evolving into something more. Messenger apps such as Facebook Messenger, Hike, Slack have released their APIs so businesses can build their bots and automate their workflow. Now creating a separate bot for each of these apps can be hectic and time-consuming. To avoid such scenario, Gupshup, world's major messaging platform came up with their new bot builder platform, gupshup.io, which can solve the problem of dealing with multiple messenger platforms, using their simpler UI and tools.
What is Gupshup and how these bots work?
Gupshup is founded by Mr. Beerud Sheth, a serial entrepreneur, who previously founded Elance. Gupshup has been researching in bots long before they were called bots. Gupshup's messaging platform is used by over 30,000 businesses, leading companies such as FlipKart, OLA, Facebook, Twitter, ICICI, HDFC and ZeeTV. Gupshup's platform handles over 4 billion messages per month and over 150 billion cumulative. Teamchat, a smart-messaging app is also developed by Gupshup.
Gupshup's bot platform provides tools for the entire bot lifecycle enabling developers to quickly and easily build, test, deploy, monitor and track bots.
Gupshup.io platform consists of omni-channel messaging APIs and bot builder tools. The omni-channel APIs enable connectivity to almost every messaging channel including SMS, Facebook Messenger, Slack, Telegram, Teamchat etc, with more to be added soon. The bot builder tools support the entire bot lifecycle including development, testing, deployment, hosting, publishing, monitoring, tracking, search and discovery of bots.
Why Bots?
We're now on the verge of a once-in-a-decade paradigm shift in the tech industry. After desktop and clients in the mid-80s, browsers and websites in the mid-90s, and mobile OS and apps in the mid-00s, messaging platforms and bots are emerging as the next wave of tech revolution.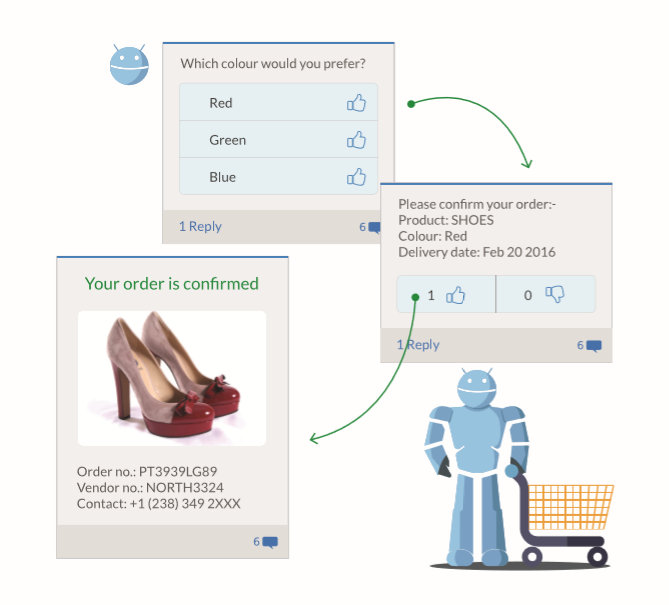 Virtually everything that we do today on websites or apps will soon be done through bots. Bots will enable shopping, ordering food, banking, trading and most other activities through your favourite messaging app.
Bots are the new apps. Bots will transform virtually every aspect of our lives, making it simpler and easier to engage with businesses and brands just by chatting with them.

– Beerud Sheth, founder and CEO of Gupshup.
Why Gupshup?
Gupshup used its extensive experience with the bot building process to automate common tasks performed by every bot developer. The Gupshup platform enables a developer to build, test and deploy a bot across multiple channels in minutes. The bot is automatically hosted with a one-click deploy process.  Post-launch monitoring and tracking of bots has also been automated. An omni-channel bot store enables the search and discovery of bots, helping developers to promote their bots. Instead of using a patchwork of tools, the Gupshup platform offers an end-to-end integrated platform for developers that frees them up to focus on their specific workflows.
Head over to gupshup.io for more information.